Injectable PCD Pharma Franchise Company | Critical Care PCD Company in India
If you thoroughly analyze the Indian pharmaceutical business, you will learn that the injectable range is in high demand. Many Critical Care Injectable PCD Companies in India deal heavily in the Injectable Range, which gives you the opportunity to get a respectable return on investment. When someone considers starting a business, they could be daunted by the significant financial commitment and the numerous small- to large-scale activities they must carry out. However, when it comes to the pharma franchise business, the entire mindset is revolutionized. This idea offers a plethora of advantages and the chance to steadily expand in the pharmaceutical business. Many people with backgrounds in pharma are motivated to launch their own Pharma Franchise for Injections as a result of the enormous expansion of the pharma industry.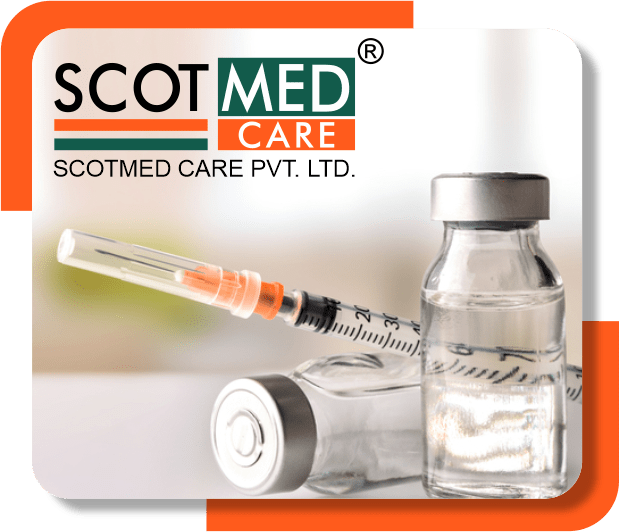 Scotmed Care is a leading Injectable PCD Pharma Franchise Company in India, having a committed group of highly qualified individuals that work nonstop to formulate, manufacture, distribute, and promote medications. Scotmed Care's mission is to enhance the lives of patients by manufacturing and distributing medications that are accessible to them. For the Critical care medication franchise firm, we actively engage with pharmaceutical experts, distributors, pharma companies, etc. We at Scotmed Care believe that by working together, we can do more, do so faster, and give patients a better quality of life. So, we're inviting individuals to work with us on our franchise for the critical care injectable range.
Rising demand for Injections Range in India
One of the new economic areas that have attracted a lot of investment in the pharmaceutical sector is injectables. Injectables are always in demand in the market. Every hospital sector needs it. The demand for the Injectable category in India is influenced by a variety of factors. The following information should help you understand why there is such a strong demand for injections in the pharmaceutical industry.
Injections are thought to offer the greatest control over any condition when compared to medications or any other kind of drug, according to experts.
Injections are strongly advised by reputable hospitals and licensed physicians.
Injections are necessary to infuse medicines, food, or other rich nutrients into blood cells so that patients can recover quickly.
The need for injectable rage products in India is acknowledged by all of the aforementioned factors. As a result, investing in a top Injectable PCD Pharma Franchise Company in India will benefit you as it is a highly sought-after market in the pharma sector.
Being a top Critical Care Medicine PCD Company, we have made the decision to offer Pharma Franchise for Injections due to the fastest-growing demand for injectables. We employ the most effective marketing techniques and resources to promote our products. Scotmed Care has a sizable customer base, and we take excellent care of them since we think that they are the key constituents and foundation of our company. Our franchise partners and clientele are prominent figures to us. We are committed to providing the highest quality products and aspire to improve the pharmaceutical industry. Scotmed Care strives to be the greatest Critical Care PCD Company in India.
What are Critical Care Medicines?
Critical care medicine, as you may know, is for those who have serious injuries or illnesses that pose a threat to their lives. Only these illnesses, such as diabetes, cancer, stroke, heart disease, and lung disease, account for 5.8 million deaths in India each year. Additionally, India experiences about 450,000 accidents every year, with 150,000 fatalities. It's a really perfect time to invest in commercial goals in the critical care sector and to serve humanity by providing highly effective injectables. Here is a list of health problems that need critical care:
Heart attack
Severe burns
Severe bleeding
COVID-19
Heart failure
Serious infections
Respiratory failure
Sepsis
Shock
Kidney failure
Stroke
People recovering from certain major surgeries
Serious injuries such as vehicle accidents falls, or gunshots
Top perks of associating with Scotmed Care for Pharma Franchise for Injections
1. Best Injectable PCD Pharma Franchise Company in India
Individuals who receive monopoly rights from the Injectable PCD Pharma Franchise Company in India are granted the authority to sell and advertise their brand in accordance with the company monopoly agreement. When you partner with Scotmed Care, our contract enables you to launch your own Pharma franchise in your ideal location or where you want to operate. In accordance with your preferences, you are free to choose the market segment for your business under the terms of the agreement.
There is no company-set goal no targets when you opt for Pharma Franchise for Injections business because it is a solemn enterprise that each of our members runs independently. You are free to establish your own objectives based on your needs and expand your business as much as you like. Since company returns are consistently positive, there is a great probability that the enterprise will grow further. Associate with a top Critical Care Medicine PCD Company, Scotmed Care to maximize your profits
You may associate with an Injectable PCD Pharma Franchise Company in India and launch your business for anywhere between Rs. 10,000 and Rs. 1 lakh, depending on your needs and budget. As investments are modest and risk is remarkably low, the PCD Pharma franchise is a type of business model where the high risk, the high-return formula does not apply. The Injectable category of medication is an option for the person since it costs little money but is in high demand.
4. Better Growth Opportunities
You have several prospects for company growth and development with Critical Care PCD Company in India. For marketing and distribution rights, everything will be taken by Scotmed Care. Moreover, we grant monopolies to our franchise partners and assist the franchise owners in consolidating their control over the market. That is why we are a prominent name when it comes to the best Injectable PCD Pharma Franchise Company in India.
5. Offer a broad, established platform
Being a leading Critical Care PCD Company in India we already have strong platforms in operation. So, when you associate with us for starting a Pharma Franchise for Injections, you do not need to put in a lot of effort to build up the platform and market for your business. We expose our associates to both national and international issues. If the individual has strong connections in the sector or wants to advance their career, they can choose the entire range of drugs provided by Scotmed Care.
Why choose Scotmed Care for Pharma Franchise for Injections?
Scotmed Care is a fastest-growing Injectable PCD Pharma Franchise Company in India with ISO, WHO, and GMP certifications.
We employ a variety of skilled medical specialists to offer the greatest product to our associates.
Scotmed  Care provides an exclusive product portfolio to its associates with effective and innovative formulations.
We have been serving a variety of clientele with our reliable service for years now.
We have invested heavily in high-end and advanced machinery to formulate the best quality products.
We offer promotional tools such as visiting cards, visual aid, diaries, calendars, written pads, to our franchise associates.
We also provide marketing assistance to help you beat in competition in your region.
We ensure safe and timely deliveries, thanks to our wide transportation network.
A hygienic environment is maintained at Scotmed Care for efficient production.
24*7 customer support is available to our franchise associates to guide them.
In comparison to other Critical Care Injectable PCD Companies in India, our pricing is lower.
Quality measures adopted at Scotmed Care
One of the well-known and best Injectable PCD Pharma Franchise Company in India is Scotmed Care. We have a very skilled and committed staff that produces and markets the injectable line in the Indian market.
The Critical Care Injectable PCD firm assures its reliable products through WHO and GMP We are regarded as the top Critical Care Medicine PCD Company in India.
Scotmed Care is a reputable PCD company that meets the needs of the Indian market by offering a high-quality injectable product line at competitive prices. we constantly adhere to all norms and regulations and only utilize dependable sources for manufacturing.
We supply top-notch medications to our franchise partners so that they can penetrate their markets with a guarantee of Scotmed Care is the perfect fit for high-quality clients that always choose the assurance of efficacy to develop their businesses.
We have quality control and quality assurance team of experts who have years of experience in the They are responsible to maintain the high quality of our products right from the acquisition of raw materials from our reliable vendors to the final delivery.
Leading specialists and professionals support our company, enabling us to provide the best medicine line at an affordable The finest thing about our business is that we never compromise on the quality of our products.
If you are looking to advance and succeed in your business, invest in Scotmed Care, the most reliable and trusted Injectable PCD Pharma Franchise Company in India. We assure you of handsome returns and full guidance to help you beat the competition.
Critical Care PCD Company in India
Best Critical Care PCD Company
Top Critical Care PCD Company
Critical Care Injectable PCD Companies in India
Best Critical Care Injectable PCD Companies
Top Critical Care Injectable PCD Companies
Critical Care Medicine PCD Company
Best Critical Care Medicine PCD Company
Top Critical Care Medicine PCD Company
Best Pharma Franchise for Injections
Top Pharma Franchise for Injections

Best Injectable PCD Pharma Franchise Company

Top Injectable PCD Pharma Franchise Company