Critical Care Medicine PCD Company – Contract manufacturing has a well-built establishment in the business industry as companies look for manufacturing products at a reasonable investment with reliability. It could be laborious to set up a critical care medicine PCD company for every business firm, and here outsourcing comes into play.
It permits the medical industry businesses to experience the highest benefit from third party production from well-known companies. Getting the production done on time with quality on par with your standards is feasible when choosing a critical care PCD company. Uncover the hidden hassles and grow your business to great heights by knowing the perks of hiring a medicine manufacturing company.
Effective cost management
Establishing a successful business empire takes lots of effort and investment. When planning to run a profitable and service-oriented medical industry, manufacturing products with quality and trustworthiness is the backbone. In this aspect, considering the choice of hiring critical care medicine PCD company is optimal.
Their efficiency in fulfilling every client requirement will be magic for new and existing business owners. It is the best solution for cutting back production costs to the best levels. You can eliminate worries about creating your manufacturing unit for medical products production, thereby minimizing additional expenses.
Get the best outcomes from Research and Development
Concerning the medical industry, a strong foundation with experienced people undergoing research and development is essential. It will aid in getting good medical product orders from clients as the customer requirements would be the best medicines for ailments.
When considering this necessity, it is the right decision to hire an outsourcing company like Scotmed Care. Spending more on research leads to amazing innovations that drive people crazy to obtain the best cure for their health issues. Third party organizations invest in this aspect and prove as the solution providers for all medical demands.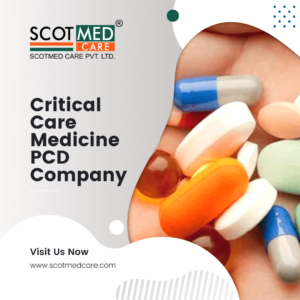 Advanced skills in medicinal production
Medical products require high-end production capabilities to meet the rising contemporary treatment needs. In that case, medical business owners should go with the choice of hiring third party pharmaceutical manufacturers. Their investment of time and money in erecting the latest technology will speed up the production process and make it efficient. It will benefit both business owners and manufacturers in attaining desired goals.
Have global presence
Having your business highly reputed among people in the world is possible when having a tie-up with the PCD manufacturers. Their ability to satisfy your medical product demands, either small or bulk orders, will permit you to deliver quality products to everyone in any country. It gives you the power to possess a global presence and achieve excellent growth in business.
Create Lasting Solutions Worry-Free
Without worrying about the business hassles of manufacturing the products, run the firm smoothly with the best relationship with third party manufacturers. Investment and quality assurance problems will not prohibit you from creating a long-lasting impression among the public by offering the best medicines.
Formulate your drugs or believe in the invention of effective medicines by those service providers. Gift your business with lucrative benefits in terms of investment and production by hiring a third party pharma manufacturing company like Scotmed Care.
Most Searched Keywords
Critical Care Medicine PCD Company
Best Critical Care Medicine PCD Company
Top Critical Care Medicine PCD Company
Critical Care Medicine PCD Company in India
Top Critical Care Medicine PCD Company in India
Best Critical Care Medicine PCD Company in India
Contact Details
Website: https://www.scotmedcare.com
Contact: +91-86840-53030, 87086-44865
Address: Plot No. 1, 2nd Floor, Usha market, Dwarka Puri, Jagadhri (135003) Yamuna Nagar (HR.)